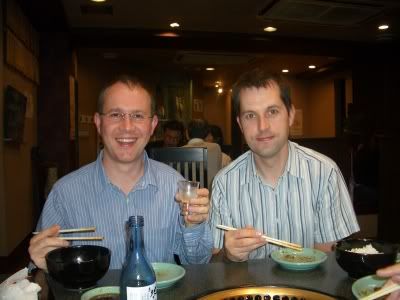 What would you do if you weren't doing what you're doing now?
As in a job? Probably something dull like selling insurance or mortgages. Before I left my last job, I'd applied for a post in head office in the share trading office, so who knows where that might have taken me...!? I'd have hated it though as I detest materialism. I only ever worked in finance because I knew nothing else. I was good at maths and good at convincing people to do things they didn't either want to do or didn't know they wanted to do it. I just drifted into that field of work but always loathed every second I wasted on it. I always dreamed of being a writer or a concept artist.

What is your guilty pleasure?
It used to be smoking. Now, um, I don't think I feel guilty about any of the pleasures in my life. Oh, unless it's going to bed late and getting up late. I had years of getting up at six in the morning and going to bed at nine at night. I'd never do that again.

Who or what inspires you?
I find it difficult to be inspired by anything or anyone. I'm an old jaded cunt.

Who are your heroes?
My Mum. She brought me up on next-to-no money, but we laughed every day, and hard, often until we cried. Other heroes are people who give blood and anti-vivisectionists who seem to be getting bad press recently. Why are we vilifying people who are standing up for creatures who have no voice? Wouldn't you want someone to stand up for you if you couldn't answer back and were about to be cut up or injected with poisons?

How do you work?

Work? I listen to Mama Cass and it's a mantra... You've got to go where you want to go, do what you want to do with whoever you want.

What gets you down?
Vile right wingers, Daily Mail readers and the television media who seem to be obsessed with asylum seekers and economic migrants. It's pathetic.

What is the soundtrack to your life?
A bunch of sad love songs, I guess...

For the good times - Perry Como
For all of us - Pet Shop Boys
Time heals everything - Bernadette Peters
Viva forever - Spice Girls
Heartbreaker - Dionne Warwick
You won't forget about me (afterlife mix) - Dannii Minogue
Stand by your man - Tammy Wynette
If you don't love me - Prefab Sprout
I don't want to talk about it - Everything But The Girl
Love is a catastrophe - Pet Shop Boys
Love games - Belle And The Devotions
Someday I'll find you - Shola Ama/Craig Armstrong
Messaggio d'amore - Matia Bazar
Don't you pay them no mind - Nina Simone
I will always love you - Dolly Parton
Love, truth and honesty - Bananarama
Something stupid (seven inch) - Inga Humpe

I could think of a thousand more.

What is your dream?
To find complete happiness. I know it's possible. I can almost feel it.