I've been tagged, dear reader, by Old Chees
er. C
lick here to re
a
d
a
ll
about his favourite films. But remember to c
ome back and read about mine!

20 Star Trek: First Contac
t

Campery in space and the tying up of loose
ends,
loo
s
e end
s you didn't know were loose.

19 Memoirs Of A Geisha

No need to give a synopsis as almost the entire planet
ha
s
se
e
n this film. I adored the cinematography. Beautiful. I was very
let down, tho
ug
h
,
by
th
e num
ber of times and the ways the film strayed fro
m the book. Poor!

18 Rebecca


A man with a secret, a lesbian maid, a nä
ive n
e
w w
ife a
nd
a plot with more twists
and turns than a mountain railway. This is a fabulous film, made
when Lawrence Olivier was as ho
t as he ever got.

I remember watching this with Mum when I wa
s rea
l
ly
f
ar
to
o yo
ung to understand all the subtleties. Every time I've seen it since the
age of s
eve
n, I've learned a little bit more. It's actually better than the book. But that's just my opinio
n.

17 Donnie Darko



Thriller, sci-fi, horror - all the genres required for pe
rf
e
c
t
vie
win
g. And a hot young actor thrown in for g
ood mea
sure! Draw the curtains, sit
back, relax and
enjo
y this weird masterpeice.

16 Freaky Friday

A children's classic. See how camp Barbara Harris ca
n
be
with a cigarette.
I first saw this for 20p at my school's film club. I was
thro
w
n
ou
t of t
he hall for laughing too loudly and b
anned from the club for
ever.

15 The Crying Game


An unconventional classic mixing sex, sexuality and
terrorism. This film made such an impression on me, after watching it all the way t
hr
o
ug
h,
I re-
wound th
e tape and watched it again. The

prisoner

scenes are the best.

14 Life Is Sweet


Mike Leigh tells the remarkable story of an un
r
em
a
rka
ble British fa
mily. Alison Steadman, Jim Broadbent and Jane Horrocks (with Nute
lla)
excel. Marxism can be funny.

13 Beautiful Thing


Boy meets boy. A dream? No, it's all real, sometimes ho
rri
bl
y real. Jonathan Harvey's best. Tameka Empson (3 Non Blondes) and Linda Henry
are t
h
e
real stars. Their final scene is a show stopper. Are they lezzing off? Or mucking about?

The comedy is first class, and the story, mov
ing. I cry
every time I see it.

With songs from Mama Cass to carry
the whole
a
ff
air along, it's a feel-good film, a film that makes one feel good about being gay.

12 The Hours

All three leading ladies (Kidman, Moore, and Streep) kis
s
a
n
o
t
her woman at some point during the film. It's quite gay.

11 Powertool

If you thought Prisoner: Cell Block H was camp, this wi
ll blow your mind. Basically, Jeff Stryker plays a character who has just been sent to prison.
Can't remember the crime. But that's not really the issue. And to be frank, there isn't much o
f a pl
ot
.
But th
ere are lots of fabulous 1980s hair-styles and massive cocks!

10 Brokeback Mountain


A timeless love story that just happe
ns to be bet
ween
two men. I'm surprised that this film actually comes in at #10 in my list, but, on carfeul con
s
ideration, it's because I find it difficult to watch. Not because it's badly made or poorly acted,
no,
but because it's so sad. I think I've seen Brokebac
k Mountain about five or six times. I h
av
e tears in my eyes during much of the film - but I spend t
he final thirty minutes sobbing, inconsolable.

9 Multiple Maniacs


This black and white movie was John Waters' second feature length film - and what a film! I really did not know what to expect from it on opening up t
he DVD case for the first time. I'd heard about it, but only vague things such as, "It's really wild
," an
d "I couldn't believe it..." My friend
Peter gave it to me as a gift. It's the most fabulous thi
ng
he's ever given me.

A travelling freakshow/circus opens in Baltimore. Actu
al
homosexuals kiss and there's a promise of someone eating vomit. Come the end of the show
(featuring lesbians!) Lady Divine (Divine) steals from the spectators. Then she kills them.

Divine's boyfriend is worse than Divine. He's having
an affair! A local bar-maid, Edith (Massey) reports the treachery to Lady Divine. Divine decides
to
go to the bar and confront the cheating pair. Sadly, on the way, she gets raped by two young
men.

She then decides to go to church. Where she mee
t
s Mink (Mink Stole). Mink shows Lady Divine how to use a rosary in a completely new way. The
ir l
esbian sex is interlaced with scenes of religious iconography from inside the church.
I love this. It's sheer rebellion.

Come the end, Lady Divine murders her boyfriend and eats
his internal organs, but karma comes and bites her on the arse when she ge
ts raped by a giant lobster.

Really, dear reader, who needs drug
s when there
a
re
movies like this to see?

8 The Exorcist


I saw this on a pirate video some time in the early 1
990s. It had been banned on video in the UK for years. I was so upset and scared, that after seeing the fil
m, I read the Bible for a bit, sang The Lord Is My Shepherd out loud, recited The Lord's Prayer an
d
we
nt to bed with the light on. I'm not joking.

Of course, seeing it now, it's almost
a joke, but
at th
e time,
and in my immaturity, it was the most frightening thing I'd ever seen.

Rumours Of Whores released a song called Cake me in vomit which, dear reader, has an awful lot to do with this nasty film. Check it out.

French and Saunders do a good spoof, too.

I think we're looking at cystitis.

7 Serial Mom


More from John Waters, though this time, no Div
in
e a
nd no Edith Massey. However, we are
treated to a fabulous exchange on the tel
ephone between Mink Stole and Kathleen Turner, reminiscent of 1950s soap operas and probably t
he best telephone conversation ever portrayed on film. I had
no idea Kathleen had such a vile mo
uth - and it's fabulous. I love shocking film, though not shocking for the sake of it. This film's use of

shock

is, I believe, a reaction to the public's opinions of outlandish murderers such as Ted Bundy and Charles Manson. Turning killings into comedy is pure genius. If done properly. And this was most certainly done imporperly! Turning ge
nius into ingenious!

6 Now, Voyager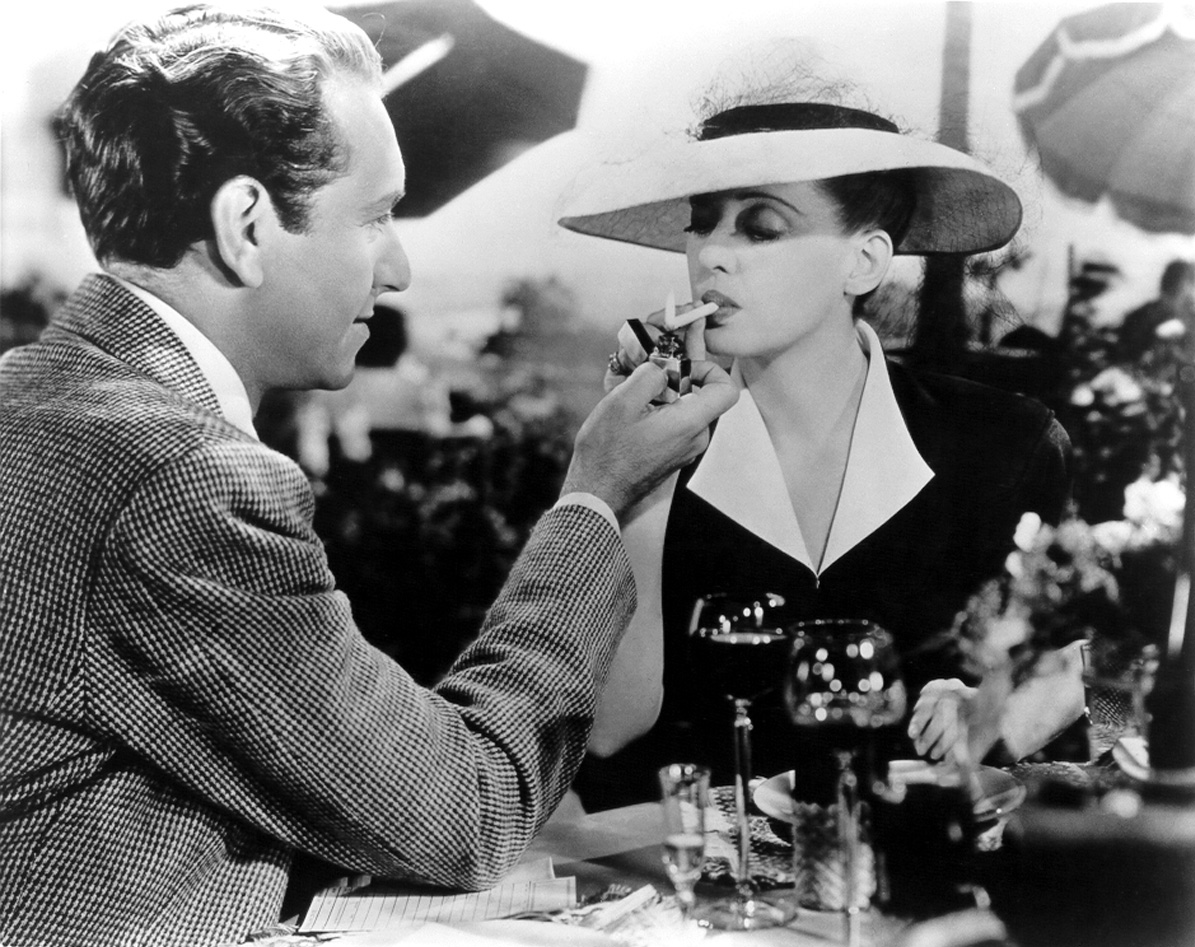 The most famous line from this movie was said by the cha
racter Charlotte Vale (
Bette Davis
) to Jerry Durrance (
Paul Henreid
): "Oh, Jerry don't let's
ask for the moon, we have the stars!"

Utterly camp, but not cheesy. Very movi
ng. Beau
tiful.


5 Life Is Beautiful

Guido Orefice's (played by
Roberto Benigni
) relationship with his wife and son is played out so beautifully with the kind of comedy most fitting to a tragic comedy, laughing with the characters, not at them. Forget popcorn to accompa
ny this movie
. A viewer needs lots and lots of tissues.

And, no! Not because of

that

, you dirty pig! Because you'll be crying!


4 The Wizard Of Oz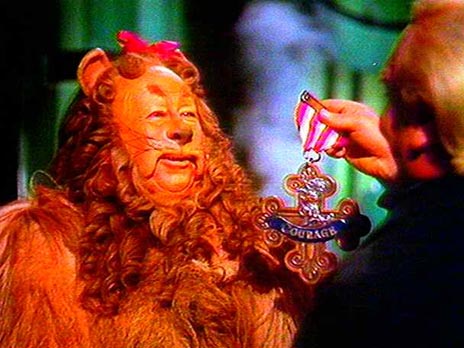 I'm a gay. Of course I love t
his movie.

3 Polyester

A
1981
John Waters
film starring
Divine
,
Tab Hunter
,
Edith Massey
, a
nd
Mink Stole
. It was filmed in Waters' native
Baltimore, Maryland
, and features a
gimmick
called "Odorama", whereby viewers could smell what they saw on screen through "
scratch and sniff
" cards. Sadly, no such cards came with the DVD. I wasn't born when the film was first released to cinemas.
The film is a satire of suburban life, involving alcoholism, the religious right, adultery, foot fetishism, abortion, and divorce.

Poor Francine Fishpaw. Her husband is a rat, but she'll sniff him out. All with the help of the delightful Cuddles.

Everyone loves Cuddles.
Click here for a clip.

2 Female Trouble



Better than Richard Speck.

1 Meet Me In St Louis



Judy at her finest.


A
1944
romantic
musical
from
Metro-Goldwyn-Mayer
which tells the story of four sisters living in
St. Louis
at the time of the
Louisiana Purchase Exposition
World's Fair
in
1904
.
It stars Judy Garland, Margaret O'Brien, Mary Astor, Lucille Bremer, Leon Ames, Tom Drake, June Lockhart, and Marjorie Main.
The movie was adapted by Irving Brecher and Fred F. Finklehoffe from a series of short stories by Sally Benson, originally published in The New Yorker magazine and later in the novel 5135 Kensington.
It was directed by Vincente Minnelli, who met his future wife, Judy Garland, on the set. In the film, Garland debuted the standards "The Trolley Song" and "Have Yourself a Merry Little Christmas" which were written by Hugh Martin and Ralph Blane and other several other songs.
The musical score (but not the original songs) were composed by Roger Edens. The song You and I was written by Nacio Herb Brown and Arthur Freed, who was also the producer of the film. Freed also dubbed the singing voice for Leon Ames. Mary Astor's singing voice was dubbed by D. Markas.

Esther and Tootie make a fine double act. They battle it out in the campery stakes, never sure who actually won. It's a film about love, love on so many levels. The love of one's home, romantic love, family love and a love of life.

Laugh, dear reader, and cry.

I'm tagging:

Krafty Bitch
Kapitano
A Novelist
JAG
Dert
Gab
Rand
Conor
Enda
Brighton David
American David
Alan
Brett
Dan
Nomad
Lewis
Brian
Bill
China
Michèle
Zona

What utter fabulousness, my little maid.