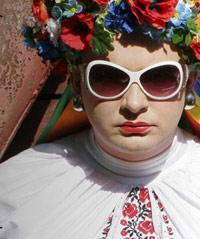 Enjoy fondling responsibly.

Good evening mes amis! Oh, Danny Boy, Ich bin der Teufel!

Eins, zwei, drei... Tanzen!

Saturday, Saturday, everyone loves Saturday! And a Saturday like today could hardly get any better. There's Haiku Saturday to play, the study to tidy and a good night on the telly! Yes, so, ok, Doctor Who has been postponed for seven days, but only to make way for the Eurovision Song Contest! So there will be no slashing of wrists tonight! Only high campery, indeed!

But who will win?

It's probably anyone's guess. Up until this morning, I was inclined to lean in Latvia's direction, but I woke up with silver lamé and glitterballs on my mind. And this can mean only one thing. Verka Serduchka is going to take the prize with this: Dancing Lasha Tumbai! The UK, sadly, will come last with next to no points for Scooch's effort is absolute rubbish. It's a shame, really. It might have won if this was 1995. And one of thier number is a twenty seven year old who looks like he's in his early forties. I'd advise him to lose weight, but that's the pot calling the kettle black, so I won't. Still, it's not all bad. He's got a massive cock and comes from Bournemouth. Curiously, everyone born in Bournemouth has got a whopping dick.

Investments can go down as well as up.